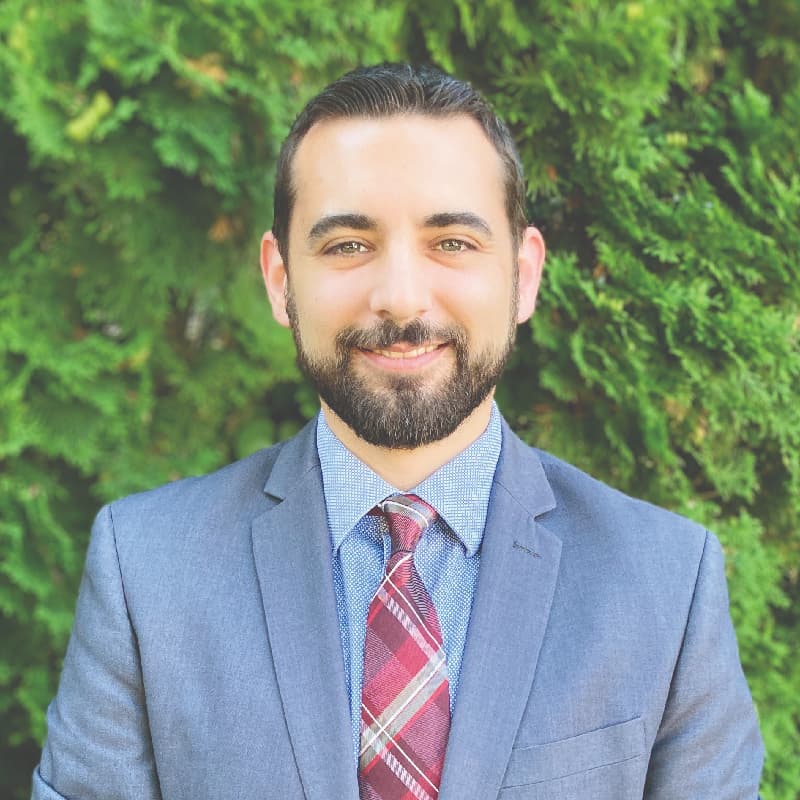 Practice Areas
Real estate
Landlord and tenant issues
Debt collection
Estate planning
Estate management
Municipal representation
Experience
Law Clerk at Beckett Law
Associate Attorney at Beckett since 2015
Bar Association
Illinois State Bar Association

Champaign County Bar Association
Professional Affiliations
Email: andrew.hall@beckettlawpc.com
A native of Chautauqua County in the Southwest corner of New York State, Andrew grew up in a small town on the shores of Chautauqua Lake. Growing up, Andrew was an avid outdoorsman and hunter. After high school, Andrew went to the University of Notre Dame, where he earned his bachelor's degree in the Classics, with a Hellenist focus, graduating cum laude and with honors in his major. While attending Notre Dame, Andrew met his wife, Natalie, a native of Central Illinois, who was attending Saint Mary's College across the road. After graduating from Notre Dame, Andrew attended the University of Illinois College of Law, where he earned his J.D. cum laude. He was a member of the Green Illinois Moot Court team, and participated in moot court competition in Chicago, Illinois. During law school, Andrew worked as a law clerk at Beckett Law Office, P.C., then known as Beckett & Webber, P.C. He stayed on with Beckett Law Office, P.C. as an associate attorney, and has maintained that role since November of 2015.
Andrew's practice is a general civil practice, with particular focus on real estate, landlord and tenant issues, debt collection, estate planning, estate management, and municipal representation. He is licensed in Illinois and before the United State District Court for the Central District of Illinois. Andrew is a member of the Illinois State Bar Association, the Champaign County Bar Association, and BNI Welldiggers Chapter. His practice has taken him to counties throughout Central Illinois, and as far south as St. Clair County, Illinois, at the request of clients.
In his free time, Andrew enjoys spending time with his wife and son, and when possible, traveling to see family and friends. He enjoys skeet and trap shooting when time allows, and is an active member at St. Joseph Sportsmen's Club. Andrew also enjoys working with his hands, whether it be home improvement projects, woodworking projects, or maintaining his property. He and his family are parishioners of St. Matthew's Roman Catholic Church in Champaign, Illinois, and enjoy a quiet small town life in Central Illinois.